I love this time of year! It's that sweet spot right at the end of the season when you get to reflect on everything that has happened this year, and start planning for next year. One tool that I use to start my farm/business/life plan for next year is a vision board.
I've done this every year since 2019 and I always look forward to it. It's a time to clear your mind and dream big about the upcoming year. This isn't about creating a plan or steps to reach your goal, it's just about what is possible.
For me, I do my best dreaming on a cold/rainy day with a hot cup of tea. I need to feel like there is nothing else lingering on my outside to-do list so that I can completely focus on my values and visions for next year.
Supplies needed: 
Magazines – I use many different kinds from all the different seasons. 
Scissors
Glue
Large poster board
I grab a large stack of magazines that I've been saving all year and start sifting through the pages. Images or words that strike me/give me peace/feel right are torn out. This is also a good time to get in touch with your Creator to help lead you while you are picturing what your life might look like in the near future.
Once you have your pages torn out, you grab some scissors and cut out the parts that you want to keep for your board. Then you arrange the pictures on your board so that they make sense to you. I might have a section that is about family, one about health, one about the farm, my personal garden, etc. Once you have everything laid out in a way that is pleasing for you, start gluing down your little dreams.
Now, post your vision board somewhere that you will see often! Mine is in my office where I do all of my planning for the business. It is a continual reminder of what I"m working towards and what my true values are.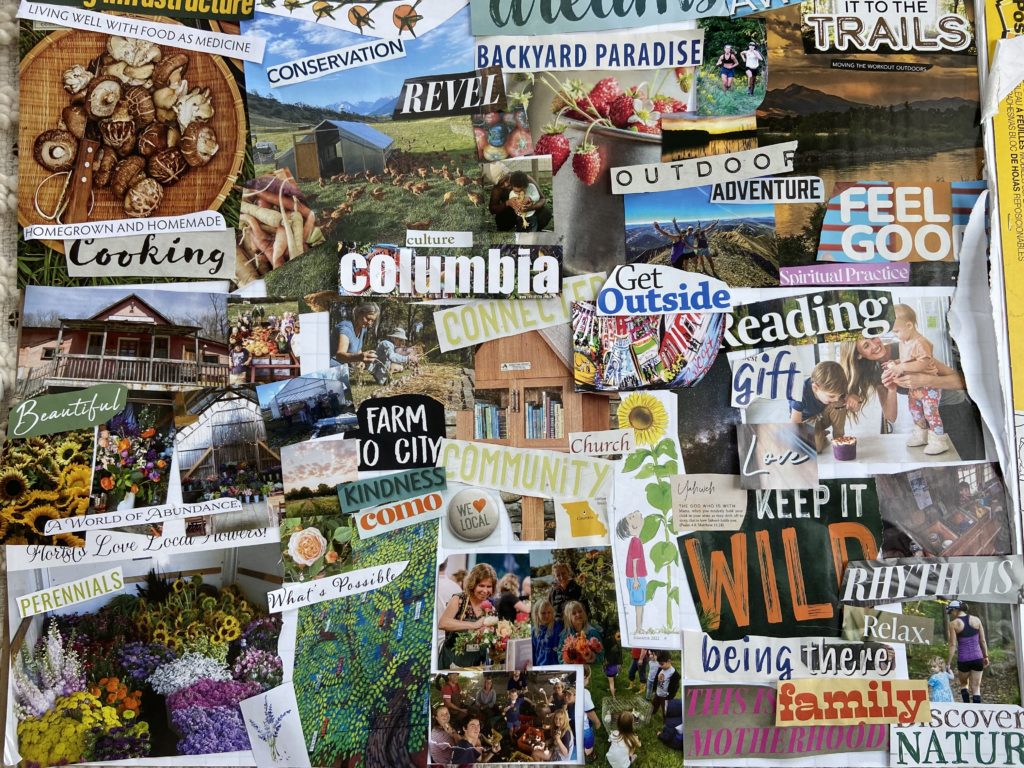 Your vision board can be your foundation for planning your next year. Mine encompasses all aspects of my life and helps me to make decisions about what goals/next steps I want to take for my business and family. If something doesn't work with my vision, it might be time to drop it. Or possibly, pick up something new!
Enjoy your daydreaming.